YOUR EXCURSION:
| Excursion | Duration hours | Included |
| --- | --- | --- |
| MT. VESUVIUS | 4 | English speaking driver, vehicle, fuel, tolls |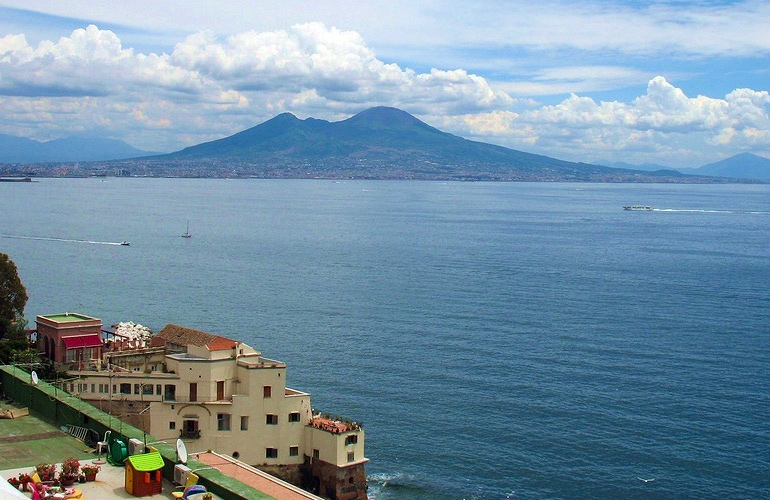 This volcano is particularly interesting for its history and the frequency of its eruptions. Is part of the Somma - Vesuvius mountain system, 1281 meters high . It is located slightly inside the gulf coast of Naples. Vesuvius is a sight of unusual beauty in the landscape of the Gulf, especially when viewed from the sea with the city skyline. After the 1944 eruption, Vesuvius is considered dormant. This period of rest is atypical, and the eruptive activity appears severely delayed. For some reason, still mysterious, the duct, virtually always open since 1631, must have been blocked in depth, or should have emptied its "pockets" of magma that fed the cyclic activity, so the volcano apparently inert as it was before 1631. On clear days the most famous volcano in Europe, offers spectacular and striking views, leaving the eye to wonder over the sea, islands and the archaeological excavations of the cities buried by the eruption of 79AC. . A few years earlier, in 62 AC., a terrible earthquake, premonitory of a far worse catastrophe that would have struck in a few years the cities of Pompeii and Herculaneum and other towns in Campania. Since dawn of that day in 79 AC., on Mount Vesuvius appeared a large cloud. At ten o'clock in the morning the gases that were pressing inside exploded and the solid lava, that blocked the volcano crater, reducing it in to ash and liquid lava. The ash was so thick that it blocked out the sun. Since that terrible day the cities have ceased to exist and remained buried for centuries under a blanket of over 6 meters of ash and lava. With the coach we will reach a height of 1000 meters, then continuing walking along a path and reaching the peak of the volcano, for an impressive view of the crater visited with a specialized mountain guide.
---